Wednesday, July 27th, 2011

Mokumanamana is where light and darkness meet, where the living and dead intermingle. The entrance to Po, where mana is strong. This last high island before the volcanoes descend into atolls is the Hawaiian River Styx. A monk seal greets us here. Boobies, frigates, terns, and petrels abound, and their excrement enriches the land, the sea, the air.
A successful day in the field; a day where experience mattered a little, and I had some. This still surprises me. Here's what we did: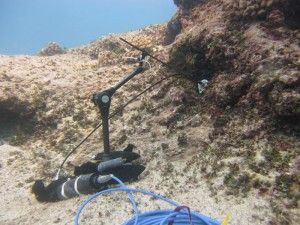 We also saw a little crabby friend.